-
How to join us
Image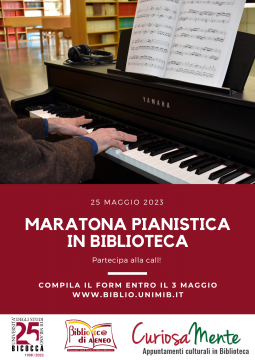 Do you play piano? Would you like to play for your friends in the campus? Would you like to move who ears your music?
Take part in our piano marathon "There is music in the silence", the Silent Concert arranged by the University Library to engage amateur piano players from the university and from the city.
On Thursday 25th may from 2.00 to 7.00 p.m. you could play the digital piano in the main branch of the Library and everyone would hear you thank to our bluetooth headphones.
Fill the form online by 3rd May. 
If you have any questions, write us at: curiosamente@unimib.it