-
10 and 12 December, in Monza and Milan
The University Library has organized four concerts for December.
The first two will be performed by the University of Milan-Bicocca Orchestra.
A concertante journey in time
Image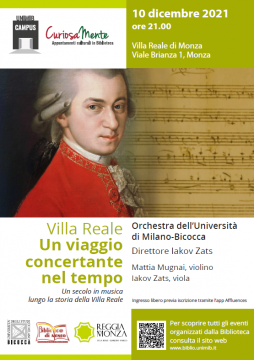 A century, in music, along with the history of Villa Reale. Form its Ausburgic origins on the notes of Mozart to the Sabaud period in serenade at the end of the 19th Century
Friday, December 10,2021. 21.00 H
Villa Reale di Monza (viale Brianza 1, Monza)
University of Milan-Bicocca Orchestra
Director Iakov Zats
Mattia Mugnai, violin
Iakov Zats, viola
To take part to the event use the app Affluences: look for "Università Bicocca. Biblioteca di Ateneo – CuriosaMente", click on Prenota, Concerto and on Prossima fascia oraria disponibile.
Mozart and Tchaikovsky
Image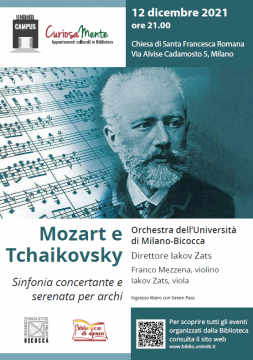 Concertante symphony and sting serenades
Sunday, December 12, 21.00 H.
Santa Francesca Romana church (Via Alvise Cadamosto 5, Milano)
University of Milan-Bicocca Orchestra
Director Iakov Zats
Franco Mezzena, violin- Iakov Zats, viola
Concert programs
Wolfgang Amadeus MOZART SINFONIA CONCERTANTE K364 for violin, viola and orchestra (1779)
Allegro Maestoso
Andante       
Presto
Pyotr Ilyich TCHAIKOVSKY STRING SERENADE in Do Maggiore Op. 48 (1880)
I. Pezzo in forma di sonatina: Andante non troppo, Allegro moderato
II. Walzer: Moderato – Tempo di Valse
III. Élégie: Larghetto elegiaco
IV. Finale (Tema Russo): Andante